---
Car repairs suck, and it seems like they always happen at the worst times when your budget is tighter than normal.
With the average American vehicle needing over $1,100 dollars a year to just perform regular repairs, suffering a mechanical failure can be devastating, especially if it's part of your car's expensive powertrain.  
Even worse, a 2019 GOBankingRates survey found that 58% of American adults had less than $1,000 dollars saved.
But you need your car. Whether it's to get to work, to school, or to pick up your kids, going without a car is probably not an option if you're like most people.
So you might be thinking "how can I get my car fixed with no money?"
The good news is, you have plenty of options to pay for car repairs, even if you don't have any money.
The first thing you need to do is assess your situation.
Did You Get Into a Wreck, or Did Your Car Break Down on Its Own?
---
If your car was damaged in a wreck, your car insurance will pay for the cost of repairs after you cover your deductible.
You will need to file an insurance claim, but your repairs should be covered in full by your insurance company.
But if your car broke down on its own, you're out of luck. Insurance isn't going to cover a mechanical breakdown, unless you have a factory warranty or an extended warranty covering your car.
Check If Your Car Is Covered Under Warranty
---
If you have a newer car, you may be in luck. Most automotive manufacturers offer a warranty that protects you against any breakdowns your car may have.
Your car's manufacturer warranty is normally 5 years / 60,000 miles. However, there are exceptions like Hyundai, which offers a 10 year / 100,000-mile limited warranty.
Check our table here for more information about your car's manufacturer warranty.
If your car is still under warranty, check to see if the repair you need is considered a covered repair.
Your car's warranty policy will break down the difference between a covered repair and an exclusion.
If your repair is covered by the warranty, great! Call up your warranty company prior to authorizing the repair, and then let them handle the rest.
They'll negotiate the payment with the repair shop and you'll be on your way with no money out of your pocket.
However, if your manufacturer's warranty is expired, you'll need to get a little bit more creative!
Before You Start Trying to Pay for Repairs – Get Repair Quotes From Multiple Mechanics  
---
Comparison shopping is your best friend when you need to save money on car repairs. Consumer research has shown that getting a minimum of 3 quotes is recommended in order to get the best price on your repairs.
Of course, this isn't always possible if you've had your car towed and already authorized the repair.
But, if you haven't authorized the repair yet, take the time to shop around for multiple quotes.
Even if your car is stuck at one repair shop and isn't drivable, what you can do is get the quote the first mechanic gives you, and then call around to other local mechanics to get an idea if you're getting a good rate.
While they aren't always accurate, you can get a good idea of what your repair should cost with sites like repairpal, Napa AutoCare, and AAA Estimates which will give you a good idea of what your repairs SHOULD cost.  
If you find that you're not getting a good rate based on the conversations you've had, you have two choices.
Either you can attempt to negotiate the first mechanic down using the quotes you've shopped around for, or you can have your car towed to a cheaper shop.
You may also be able to bring your car to a vocational school for students to practice on.
You can call the school and ask if they'll work on your car. The school will either have you bring the parts yourself, or they'll invoice you for their cost.
Either way, you're better off starting with the lowest possible repair price as we move on to other options.
If shopping around has solved your problem, and suddenly you have enough cash to pay for the repair, wonderful! If not, read on.
What to Do If You Can't Afford Your Car Repairs
Once you know you're getting the best estimate on your car repairs, you've got plenty of options if you still can't afford your repairs.
See If You Or Someone You Know Can Do It
---
There's a wealth of information out there for anyone who wants to try their hand at fixing a car.
For little fixes, especially minor cosmetic fixes or simple maintenance (like brake pads, or flushing your fluids), there's no reason you need to pay a mechanic for their labor, which usually is the most expensive part of a car repair.
Websites like AutoMD and YouTube are your best friends when you're doing car repairs yourself. They have step by step tutorials that can walk you through the repair process.
Or, if you know someone who can do car repairs you can always ask them to help you and pay them instead of a mechanic.
It might be someone in your circle of friends and family, or a local neighbor. It's possible you could even swap favors to get your car fixed.
There's over 750,000 auto mechanics nationwide, so it's entirely possible one of them is someone you know.
More than likely though, you've already thought about this option – mechanics don't grow on trees after all.
Get A Loan From A Friend Or Family Member
---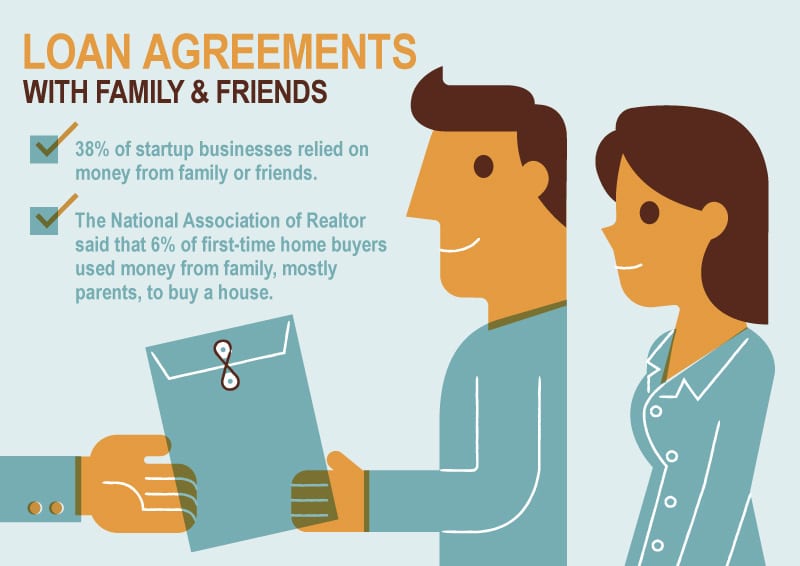 ---
If possible, approach a friend or family member that you have a good relationship with about a personal loan.
Personally, I'm not in favor of this option because it can be extremely uncomfortable to have to ask.
If you do decide to get a personal loan, make sure you've provided a clear payback plan that covers any questions your new lender might have.
In your payment plan, you should specify how long it'll take you to pay back the loan, what installment you'll pay, and what interest you'll agree on (if applicable).
If you don't have a friend or family member you can borrow from, and you can't fix it yourself, you're going to need to explore doing something else.
The good news is, there are auto repair shops that offer financing, so if you don't have the cash upfront, you can pay for your car repair in installments.
Pay For Your Car Repair In Installments 
---
Your car repair bill doesn't have to be paid upfront at all shops. Some shops offer repair financing, which allows you to pay your bill in a series of installments. Normally, this is at larger auto shops.
Smaller mechanics often do not have enough operating capital on hand to offer payment plans on their own – so they partner with lending associations such as Synchrony Bank to offer payment plans.
Larger organizations like Napa have deeper pockets, and as a result may offer payment plans in house.
For example, Napa AutoCare centers offer EasyPay financing at their mechanical and collision centers.
You can find a car repair shop that finances near you using their website.
Each mechanic will do it a little bit differently, but the way it tends to work is the car repair shop gives you a credit card that you can use to pay for repairs.
These credit cards offer no-interest financing for an introductory period, usually between 6-12 months.
They also can function as loyalty cards from the brand you get them from and may come with rewards.
The good news is these plans are easy to qualify for, bad credit or not.
Typically, you'll be able to find out if you qualify within minutes, especially if you apply online.
Auto Repair Shops That Take Payments
---
As we've established previously, smaller auto mechanics are less likely to have financing.
For this reason, the list below is all national chains that have locations spread throughout the US.
The list below is not intended to be exhaustive, but you should be able to use it find a mechanic locally.
These auto mechanics all have financing offered, although their rates vary.
All things considered, using an auto repair credit card is usually the best option if you can pay off the entire repair balance during the 0% APR introductory period.
However, if you're not able to pay the entire cost of repair within 6-12 months, stay away from auto repair credit cards.
With non-promotional rates of 30% APR and up, you'll end up paying a lot more than just the repair bill.
Looking through this list, you'll notice most of the companies have very similar terms.
This is because one company largely dominates auto financing.
The company is called Synchrony – and it's a consumer financial services firm headquartered in Connecticut, that manages financing for nearly every major car repair company.
There are also several cards run by CitiGroup, which manages credit for Monroe Muffler.
If you want more information about each specific card, just click the picture below to be taken to the terms and conditions for each.
---
Repair Shop
No Interest Period
Non-Promotional APR
6 months for purchases of
$199-$749
OR
12 months for $750+
29.99%
6 months for purchases $199+
29.99%
6 months for purchases of $149+
28.8%
6 months for purchases of $199+
29.9%
12 months for purchases of $699+
30.49%
6 months for purchases of $250+
30.49%
6 months for purchases of $199+
29.99%
6 months for purchases of $199+
29.99%
6 months for purchases of
$199-$749
OR
12 months for $750+
29.99%
How To Determine If A Repair Credit Card Is Right For You
---
A repair credit card can be the right choice for you if you have the discipline to pay off the card IN FULL during the promotional period.
Under no circumstances should you use a repair credit card if you won't be able to pay it off during the promotional period.
This is because of the high-interest rates on these cards.
Even though the companies claim there is no interest, interest still accrues.
Even worse, you'll end up paying all the accrued interest if you don't pay off the card within the promotional window.
Here's how these cards work:
Once you pay for the repair with your card, the credit card company will then begin adding interest.
You won't have to pay this interest immediately. It will build up in another account.
To calculate the interest, your credit card uses what's called the daily balance method.
If you fell asleep during accounting 101, don't worry, the daily balance method is simple. The way it works:
The credit company calculates your balance for that day. It does this by taking your ending balance from the previous day, plus any interest charges at the stated (daily APR) rate.
Then, any new charges for that day are added and any payments are subtracted. This does mean your interest compounds daily – which is great for the credit card company, but not so great for you.
Then, the daily balance is multiplied by the daily interest rate. The daily interest rate is roughly equal to the APR/365. This is your interest charge.
All the daily interest charges are added up for the month. The final amount is your total interest charge for the month, usually rounded up to the nearest cent.
To see this in practice, let's run this through an example $1,000-dollar repair, with a 29.99% APR and a 6-month promotional no-interest period.
We'll assume you evenly distribute payments across the 6 months and make no additional purchases during this period.
We'll also assume your billing cycle is 30 days long, and you make an auto-payment on the 30th day of every month.
---
| | | | |
| --- | --- | --- | --- |
| Time | Balance | Payment | Interest Expense |
| 0 | ($1,000.00) | $0 | $0 |
| 1 | ($833.33) | $166.67 | $23.83 |
| 2 | ($666.66) | $166.67 | $44.23 |
| 3 | ($499.99) | $166.67 | $60.53 |
| 4 | ($333.32) | $166.67 | $72.72 |
| 5 | ($166.65) | $166.67 | $80.80 |
| 6 | 0 | $166.67 | $84.77 |
---
If you paid your balance in full over the course of 6 months, you'd only accrue $84.77 in interest, which you wouldn't have to pay anyway because you paid off the balance during the no-interest period.
At first glance, $84.77 in interest doesn't sound too bad, and it isn't.
The problem with these credit cards isn't the finances behind them, it's our psychology. It's all too easy to get behind on the payments because we know that we still have time until the deadline.
To show you how dangerous this can be, let's take our above example and extend it over 12 months, instead of the 6.
We'll pretend that you plan on paying the $1,000 over 12 months – without accounting for interest, which is a common mistake people make when using repair financing.
---
At month 12, you'll have paid your $1,000 dollars – but you'll still be carrying a balance of $258.47.
To finish paying off the card, it'll take you another 4 months. The total cost of the repair? Nearly $1,300, instead of the $1,000 you originally borrowed.
The math gets worse the higher your balance is, and the lower your monthly payment.
In other words, think carefully about what you'll be financing.
If you can't pay off the total amount financed in the promotional period, it's probably worth staying away from repair credit cards.
But fear not. You have other options if repair credit cards aren't for you.
Emergency Car Repair Loans
---
You also have the option to get a car repair loan. A car repair loan is usually a personal loan, and it comes in two varieties: secured and unsecured.
Unsecured loans will require a credit check, while secured loans require some type of collateral to guarantee the loan.
Secured loans (often called pink slip financing) are a financing option with no credit check if you're worried about bad credit.
However, if you use the car's title as the collateral, the loan amount is limited to the KBB value of your car.
The downside of title loans is they're short and difficult to repay. If you don't repay the loan and the fees associated with it, your car is liable to get repossessed, or at the very least have additional rollover fees tacked on – which makes the loan even more difficult to repay.
The Consumer Financial Protection Bureau estimates that 1/5 title loan borrowers end up having their vehicles seized for failing to repay their debt.
Pink slip loans should only be used in situations where you'll be able to repay the entire cost of the loan within the specified time period.
You'll want to make 1 payment at the end of the loan term to clear it. If you don't anticipate being able to do this, avoid these loans, as the effective APR can be well over 300%.
The same is true of payday loans. Payday loan companies flourish with predatory lending techniques, with APRs often over 400%.
The other kicker is the entire loan plus fees are due with your next paycheck – which isn't exactly a great idea if you've got an expensive auto repair payment waiting.
Payday loans are illegal in some states, as state policymakers realize the extremely negative impact that payday loans can have on low-income communities.
If you wish to get a loan, stick with a personal, unsecured line of credit and avoid title loans and payday loans.
Finding Auto Repair Loan Lenders
---
Finding an emergency car repair loan doesn't have to be tricky, as there are several auto repair loan lenders that make it easy for you to comparison shop.
NetCredit, for example will serve you auto repair financing loans with no credit check, often within minutes. There are plenty of similar websites that offer the same.
You do have other options as well. Banks and credit unions both offer unsecured personal loans.
It's worth it to look around at local options – as you may be able to get a better rate.
However, the terms of these loans will depend on your credit, so your rate may not be as competitive if you have a lower credit score.
Getting A New Card With A Low (Or Zero) APR
---
While your existing cards may have an APR that makes even the thought of financing a costly repair painful, many new cards have introductory offers with a 0% purchase APR.
The introductory period can be anywhere between 12-24 months – but after the promotional period your card will have an APR.
CreditKarma has a great list of 0% APR credit cards which you can use as a starting point. 
Take the time to comparison shop.
You want a card with a 0% APR period that's long enough for you to completely pay the repair off before interest starts to accrue.
The downside to some of these cards is you'll need to have decent credit, but if you shop around you should be able to find a card that works for you.
Free Money For Car Repairs: JARC and Non-Profits
---
Money doesn't grow on trees, but the Federal Transit Administration and local charitable organizations may be able to help you if you're low income or a current a welfare recipient.
Firstly, the Federal Transit Administration has a program called Job Access and Reverse Commute which is tasked to disburse funds to local non-profits who are in turn charged with supplying these funds as grants to low-income members of the local communities they serve.
These grants can come in the form of car repair financial assistance, or low-interest loans.
Unfortunately, JARC has very limited funding. Your best bet to see if any local non-profits can help you access either JARC or non-profit funds is to call the United Way Hotline by dialing 211.
United Way connects you to local solutions that include non-profits and JARC charities which can help pay for the cost of your repair.
Even if JARC isn't in your area, your case manager may be able to point you to other resources in the community that can help you out.
These resources are typically based on need and will ignore factors like your credit score and instead focus on your budget and financial health.
They'll then check this against any outstanding warrants, tickets, and employment history to make their final determination.
Planning Ahead For Your Next Repair
---
Unfortunately, if you own a car, you're always going to be on the hook for repairs.
The average car costs about 1.1k a year to repair, which can climb to as high as 2k a year towards the end of your car's lifespan.
This might leave you wondering: how do people afford car repairs?
In truth, the best way is to budget for them. Set aside an emergency fund of $1,500-$2,000 by saving a little bit each month.
If it seems impossible to save that much on your current income, see if you can approach the issue from a different angle.
Can you get an additional job, or start a side hustle? If so, take the money from the job or side hustle, and instead of applying it to your monthly budget, put it into a dedicated rainy-day fund and don't touch it unless you really need it.
Building this rainy-day fund can be hard and time-consuming, however.
The good news is, there's a better way.
With An Extended Warranty, You'll Never Pay Out Of Pocket For Covered Repairs
---
What if I told you an extended warranty could save you over $5,000 dollars?
---
---
If you have an extended warranty from Protect My Car, you'll never have to worry about paying for expensive car repairs ever again.
An extended warranty is insurance for the most expensive parts of your car.
If your car breaks down, we'll step in to pay for the repairs, so you don't have to. You won't have to worry about budgeting, applying for loans, or negotiating with the mechanic for a better price.
That $2,000-dollar transmission repair you're struggling to pay? If you have an extended warranty with Protect My Car, you'll only pay the $100-dollar deductible, and we'll cover the rest.
Better yet, you won't have to pay out of pocket for it.
We'll handle all of this for you, so you can sleep easy at night.
Plus, our plans include a variety of other benefits
With 24/7 roadside assistance, you'll never be stranded on the side of the road.
And don't worry about the rental car. We'll take care of that for you.
Better yet, we'll even negotiate with the mechanic for you so you don't have to.
Our affordable plans have a predictable cost you can count on, and unlike auto repair loan financing options – our vehicle service contracts don't have an interest.
Plus, if you're working to rebuild your credit – there's no credit check.
Better yet? We offer a 30-day money-back guarantee, so there's no risk to you. Cancel any time within the first 30 days!
The peace of mind that your repairs are covered can be yours. We have several different levels of car care warranty coverage that can be tailored to your specific needs and pricing, to make sure it's completely affordable for you.
Don't wait for the next expensive car repair to leave you wondering how you're going to pay. Get an extended warranty quote from Protect My Car and drive with confidence.